Clear evidence of Russian troops rounding up Ukrainian civilians and using them as human shields has been found by the BBC. In multiple interviews in Obukhovychi, north of Kyiv, villagers say they were taken from their homes at gunpoint and held in a school gymnasium by Russians trying to stop advancing Ukrainian forces. Local people also gave accounts of Russian troops shooting civilians and holding others captive in and around Ivankiv, the neighbouring town.
On the night of 14 March, Russian soldiers in Obukhovychi were under attack and losing men and armoured vehicles. The Ukrainians were regaining territory.
As darkness fell, local people, sheltering in their cellars, heard explosions and the grinding sound of armoured vehicles manoeuvring.
They had been under Russian occupation since the start of the invasion – the area was on the main axis of Russian advance. Obukhovychi is 100km (60 miles) from Kyiv, close to Belarus and just south of the exclusion zone around the site of the Chernobyl nuclear disaster.
We have now managed to speak to many people about what happened that night. They all told us the same stories about 24 hours that traumatised the village.
Families described how the Russians went door-to-door, rounded them up at gunpoint, and marched them to the local school – where the Russian forces used them as protection.
Many of the houses in the village had the Ukrainian word for "people" painted on their gates – a way of warning soldiers to be careful and not hurt them. But, in the end, the signs were a magnet to Russian troops.
We were told that if people didn't open their doors, the Russians broke them down. About 150 civilians, including the elderly and small children, were taken from their cellars to the school.
"The [Russians] are fascists, vandals. It was chaos, children and people crying… I don't want to talk about the Russians. They're not human beings," 60-year-old Ivan told us.
Lydmila Sutkova described the terror of being rounded up at the school. "When explosions came, we thought if the ceiling falls this will become a mass grave."
Others told us that some of the Russian soldiers were drunk, and threatened to take them to Belarus.
Maria Bilohovost, an 89-year-old great grandmother, told us she had survived World War Two and that the Russian invaders were like the Germans. "Except they spoke Russian, so I knew what they were saying."
She said the Russians left her in the house but took the rest of her family – including her granddaughter Maryana and great-granddaughter Marharyta. Maryana says two-year-old Marharyta still shows signs of anxiety.
Maryana's mother Olena tells us that she was afraid they would all be shot in the gym. "I was scared for my daughter. I don't have the words. I'm still frightened. Machine guns – a two-year-old girl should not see this."
Olena says that while the Russians were occupying the village, young women and girls hid inside their homes. "We were really terrified. One lady went to collect wood for the fire in her house – she was shot in the leg. They just did it for fun."
In Obukhovychi, there was no mass slaughter of civilians – but we were told stories of individuals, including a local priest, being killed.
Up the road, the nearby village of Termakhivka is built around a desolate crossroads, where routes lead to Belarus, Chernobyl, Warsaw and Kyiv. There were burnt out military vehicles and military emplacements – once held by the Russians, we were told, but now manned by Ukrainians.
One local man, 25-year-old Bogdan, says he was held captive for 15 days outside in sub-zero temperatures – often bound and gagged – by Russian troops. He rolled up his trouser leg to show where a Russian had shot him.
"He put me on a bench near the house, aimed his machine gun at me and shot my knee… the reason is that I have a younger brother. He served in the army. They found his military cap and his military photos."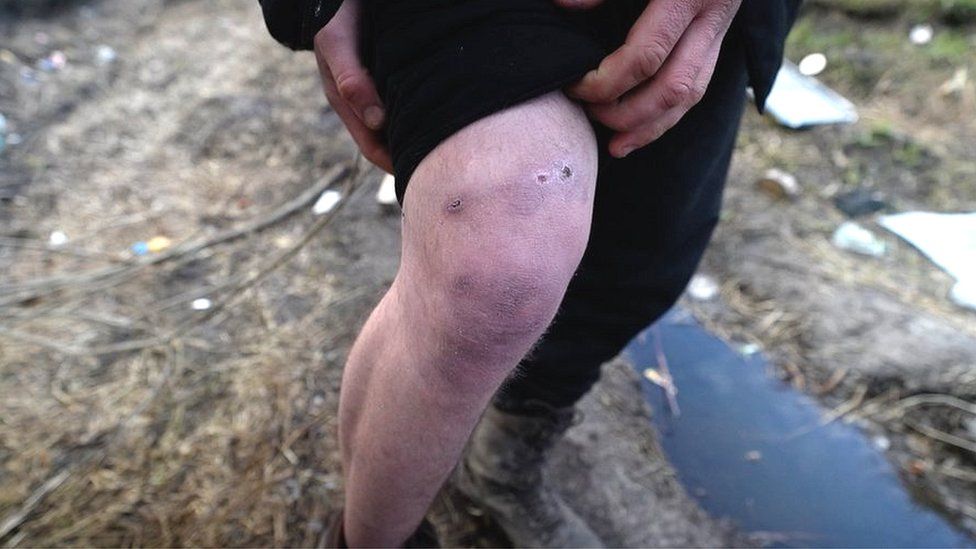 Bogdan also took us across a waterlogged field to show us a patch of disturbed ground – which he said was a shallow grave. The Russians forced him to dig the hole, he explains, so they could bury the body of a man who had been shot.
Getting to these villages was a hard slog. It meant going the long way round, across pontoon bridges and along back roads through miles of deep forest.
This part of Ukraine is a land of rivers and swamps. It's one reason why the Russian advance stopped.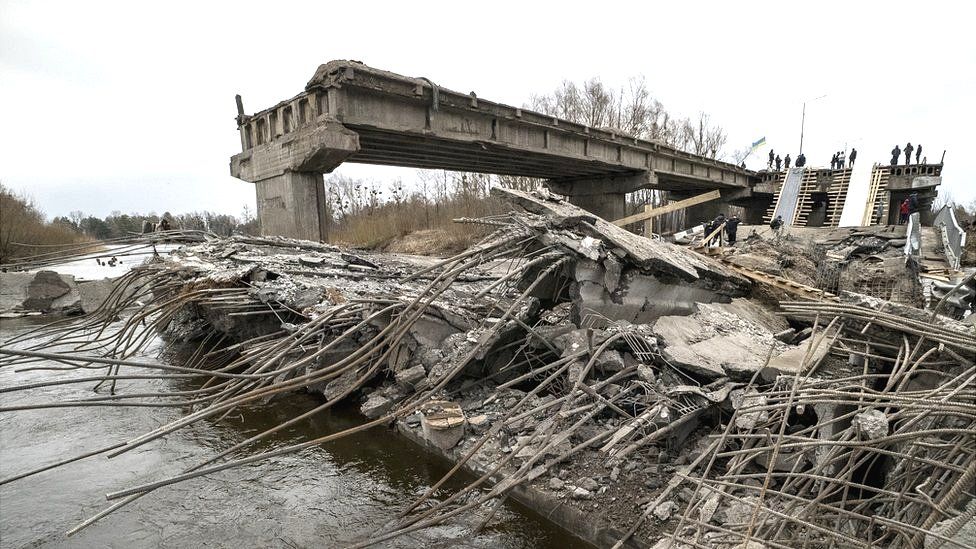 Now the Russians have pulled out of this area, it is slowly being reconnected to the rest of the country. While we were there, the Ukrainian army fixed a temporary bridge over a river on the road to the capital, next to the ruins of one the Russians blew up as they were retreating to Belarus. Dozens of volunteers were helping out, lighting fires, making soup, cutting trees, digging up stumps and smoothing out new roadways
In areas where Ukrainian forces are in control, evidence is accumulating that Russian troops repeatedly broke the laws of war.
The question is how the Russians are treating civilians in the places which they still occupy.